The Lakshmi Narasimha Hoysala Temple at Nuggehalli
It is over 750 years old, with sculpture done by the two celebrated Hoysala craftsmen of the thirteenth century — Mallitamma and Baichoja.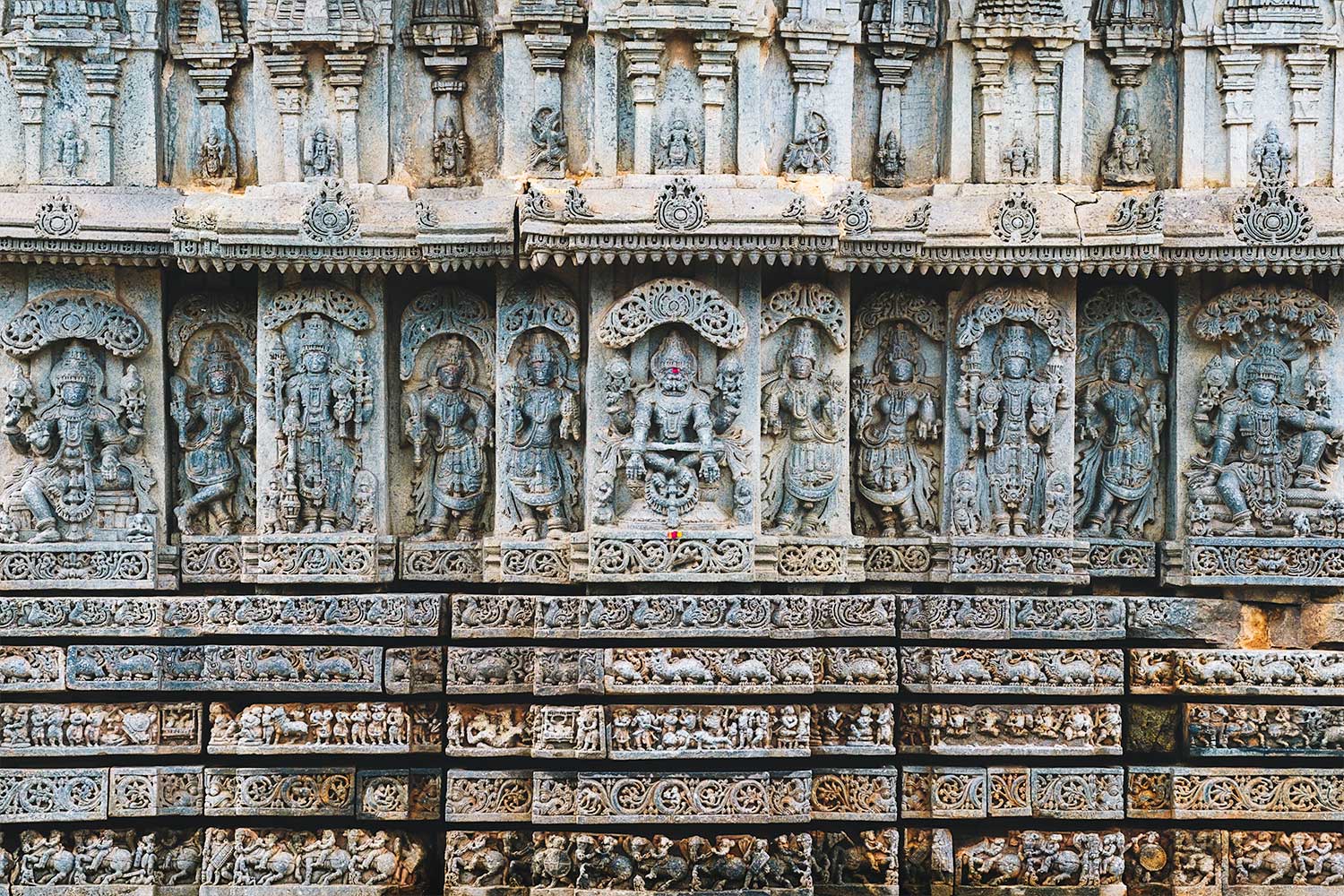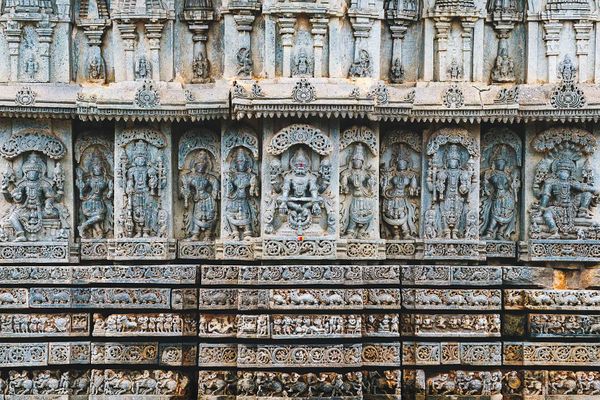 The temple sits on a rise a short distance from a lake, now full because it's July. It's a small temple. Its importance comes from being over 750 years old, from being a Hoysala design, with the sculpture that covers every foot of the exterior done by the two celebrated Hoysala craftsmen of the thirteenth century — Mallitamma and Baichoja. The temple is credited to Bommanna, a dandanayaka (general) in the service of King Vira Someshwara.
Three deities — Lakshminarasimha, Keshava, and Gopala — stand in the three garbhas of the trikuta construction. All three are avatars of Vishnu, and their statues are covered in bright silks. While I was there, the interiors were dank and musty, and also greasy, as usual in our Hindu temples, from the constant use of oil and ghee and curd. And sooty because of smoky lamps. The exterior, however, was well-swept and litter-free and tidy. Under cloudy skies in the cool afternoon, with not another visitor — by blessings of the coronavirus — my hour there was pleasant.
But there were two men at the main door, sunk deep in their phones. Caretakers, North Indian. They had a question and an admonition when we went in. "Bangalore?" And, "Camera allowed nahin!"
"Kab se?" I asked, frowning my deepest. I spoke in Hindi because the men had no Kannada, no English. Strange, in this interior among the plains of Karnataka.
"Andar mein," they corrected themselves. "Wahin to bol …"
That was all right. I had no plans to shoot inside.
The statues are well preserved over their seven and a half centuries, but some recent vandals have ground out the delicate features on some of the best works. Using stone on stone, it appears. The temple is all in soapstone, and the statues are easy to disfigure.
I didn't get good pictures. The sun was high and harsh in the brief moments it shone through, and when the clouds covered it, the visage was flat. Also, it doesn't help that after twenty years as an amateur photographer, I continue to fumble with the dials and buttons on the camera.
The temple was built together with an agrahara, for Brahmins, for them to devote themselves to the study of scriptures and liturgy. A Brahmin population still lives there in a modest, concentrated area right before the temple. We spoke with a few of them, fair-faced men who spoke chaste, crisp Kannada.
We spoke with them when we were approaching the temple because the main street up to it had been closed off with a makeshift barricade. A group was coming out from behind it, wearing dhotis, and calm faces. "Covid has happened," they said. "Just now. Two cases." They pointed an alternate way for us, round the blocked section.
And now, an hour later, while I was trying to get a decent composition, to quickly take in a golden hue had come upon the back of the temple, the caretakers came hurrying up. "Closing," they said. "Corona positive. Abhi abhi. Do aadmi. Baap aur beta."
We'd heard that news an hour ago on our way in, but we hadn't heard the victims were a father and his son.
"Kahan se hein aap?" I asked, hurrying along with them. One was from Uttar Pradesh. Another from Jharkhand. "How have you come to be here?" They'd appeared for a selection, passed examinations, been recruited, and were eligible for posting anywhere in India.
"Kaisa laga Karnatak?"
"Best," they said, in English this time, and appeared to mean it. One of them reached forward to hold my bag for me while I pulled on my shoes, but stepped back, remembering the virus just in time.
"It's a sleepy village," my wife said as we drove out westward, toward Hassan. What appeared before us on this new stretch was not sleepy a bit. Nuggehalli is larger than a village, smaller than a town. It has a large police station, banks, more temples, and small businesses like a busy carpentry shop that we passed, which was producing shutters and door jambs out in the open by the street. Evidence of a thriving coir industry was all around us, deriving from the coconut farms that surround Nuggehalli for miles and miles.
They say that in Bommanna Dandanayaka's times this place was a staging post for the Hoysala armies. As we exited the village, I thought of Bommanna's king, Vira Someshwara, who is two places up from the last great king of the Hoysala lineage, Vira Ballala the Third, the valiant king who engaged himself with the squabbles of other, southern kings and fell to Ghiyasuddin, to be strangled, flayed, and filled with hay and hung upended on the ramparts of Madurai fort.
Then I thought back to the beautiful, petit temple we'd just been in, and of the vanity of small and big undertakings of kings and their nobles.
---
Directions