John Lennon: Lennon Peace Monument Unveiled in Liverpool
Cynthia (Lennon) asked everyone to seek the kind of peace Lennon enjoyed, which was to have a good time. "Go and have a good time," she said.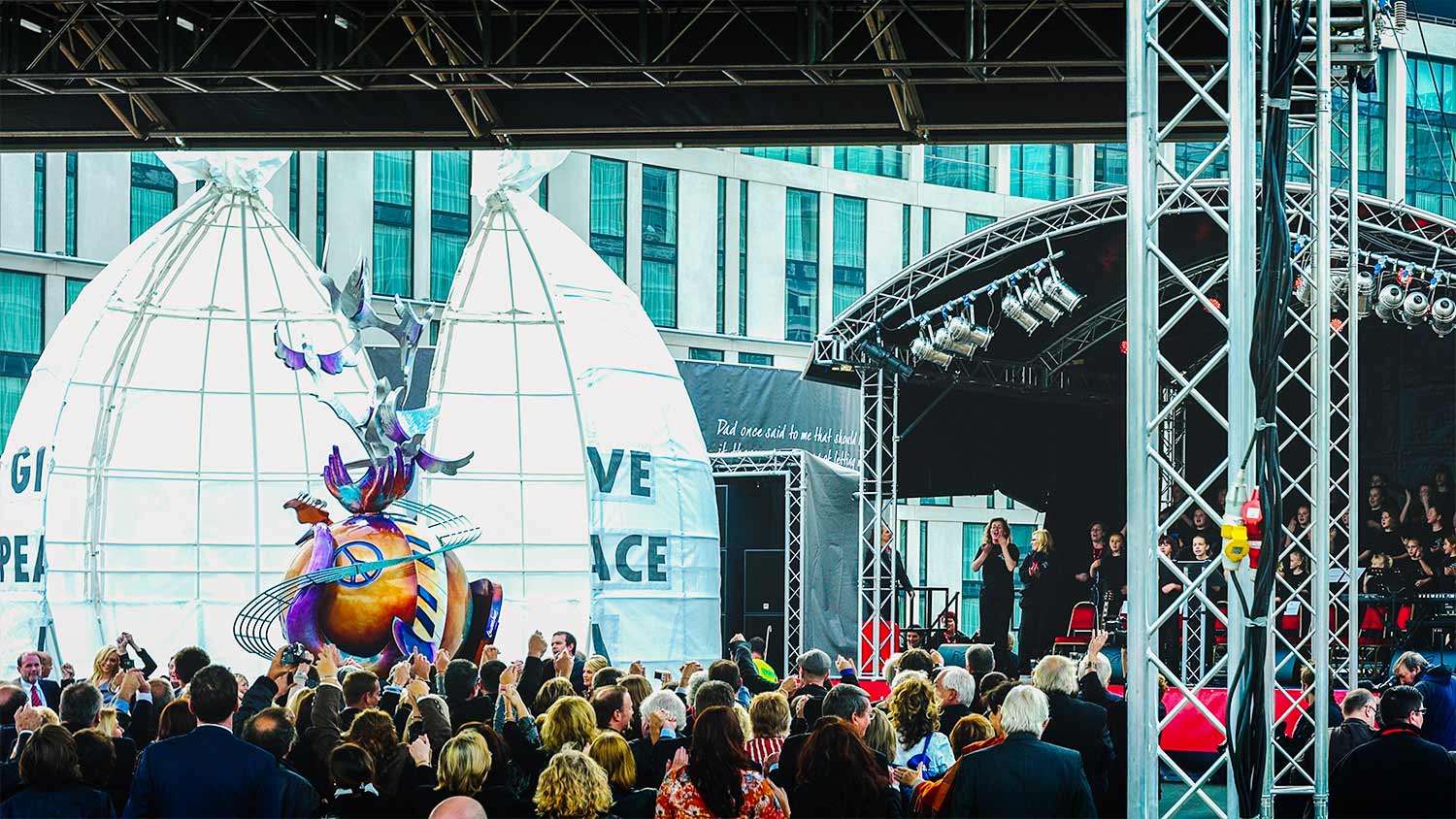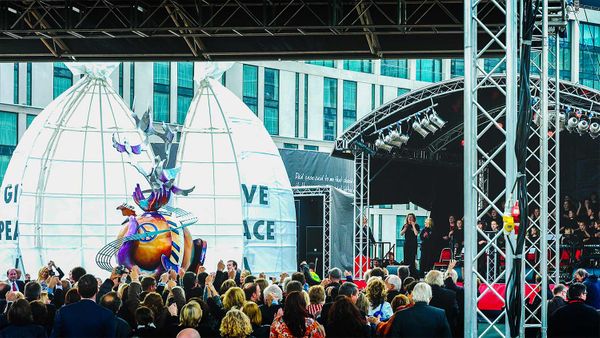 At this time, there are two John Lennon Peace Monuments in the world.
The First Lennon Peace Monument was accepted by President Nathan in Singapore, on behalf of Asia — not by the Indian leader, or the Chinese, or any other Asian. Perhaps former prime minister Junichiro Koizumi of Japan would have been a right choice as well, considering his love of music — but in respect of peace he scores an annual misstep — each year he visits once the Yasukuni Shrine, maddening China and Korea afresh.
I've been confused about how Singapore got thought of as a fulcrum of peace in Asia. But hush: I must think broadly. Perhaps a Lennon Peace Monument is a fit for the city-state: People eat healthy there in that brave new world, they exercise, and party, and earn enough for music and the arts and every other kind of leisure. The Singaporean would want, and promote, world peace more than any other — so that their party might never end.
Still, I wonder: The lyric-appeals for peace, of Dylan and Baez and Lennon and their ilk, reach an influential section of humanity — the "intelligentsia." But there are others for whom it means nothing to give peace a chance. I'm trying to imagine: What shall be the lyrics for the Taliban, and who will sing to them? What's to be the songbook that will appeal to mujahideen ears? For our Kashmiri youth who have begun to turn to stone? Will our militant Marxists and Leninists leave them both for Lennon?
Pardon me. I'm cold from being out on the streets in Liverpool and, writing this, am out of joint in mind and body.
I've been to the Beatle points of interest, their homes, Merseyside, and where they did their early gigs. I'm staying at the Hard Days Night Hotel. I heard the Beatles across town, at the Liverpool Philharmonic, in the hotel lobby, and at a bootleg concert in the hotel basement. I thought I should do all this on Lennon's seventieth.
---
And I stood on a rise and watched the hatching of the Second Lennon Peace Monument, christened Peace and Harmony. The white cocoon that held the monument — a creation of nineteen-year-old Lauren Voiers — was opened by the hands of Julian and Cynthia. A crowd of snow-white balloons also came out of the cocoon. The necks of the balloons were done up in broad collars, and they appeared very well dressed — a coastal breeze tossed them up and carried them away. After taking in the show, I lowered my eyes and allowed the monument a compliment. The piece is created after how Lennon preached peace, there is even that sixties symbol on its base, and it is a way of imagining peace and harmony by a nineteen-year-old which I cannot describe because I cannot read art at any level.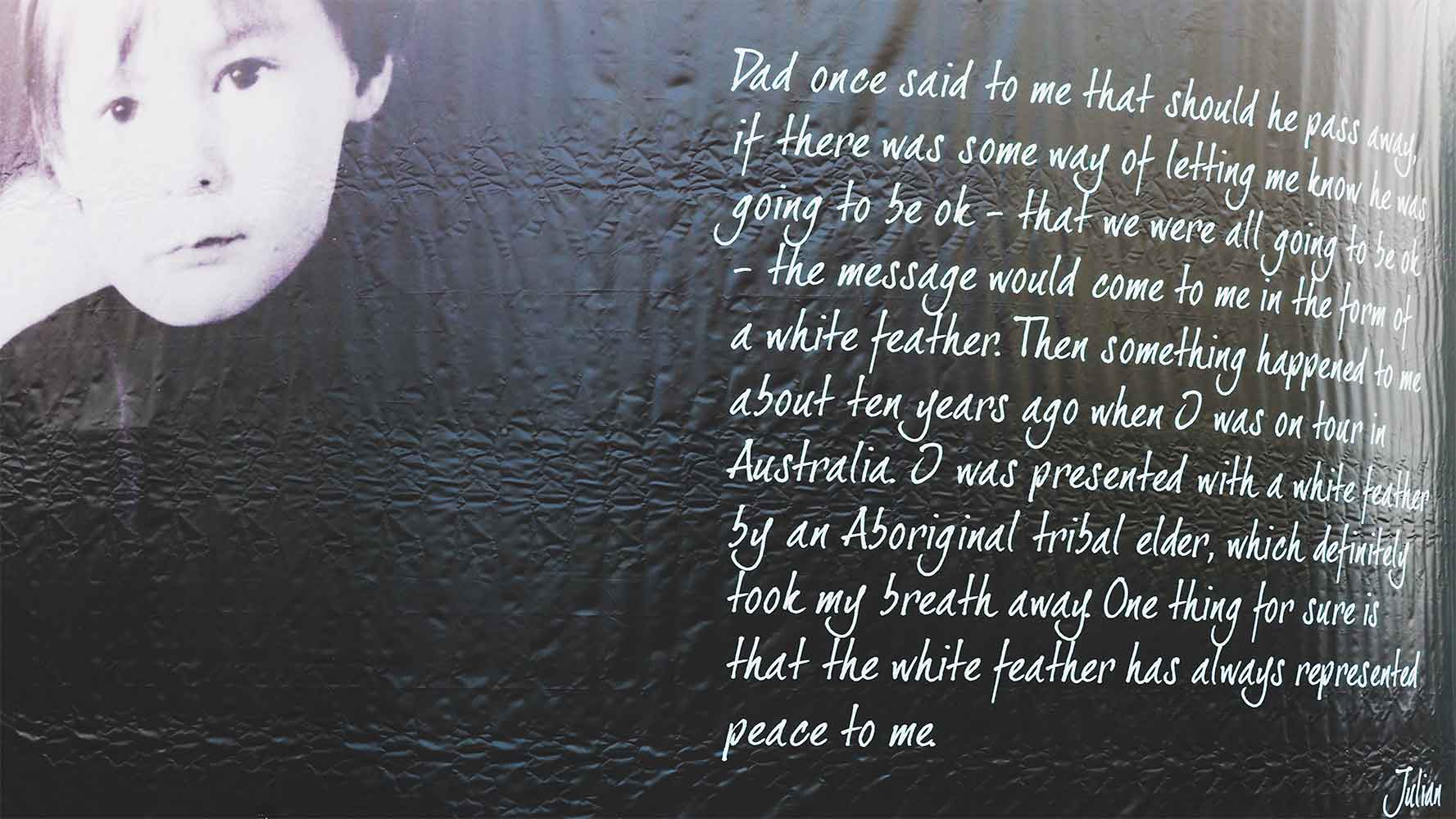 The Lord Mayor of Liverpool is a lady with a face as lovable as the German Chancellor's. When she rose to speak, there was deep affection in the applause, accentuated by a single piercing whistle from the heart of the crowd. The sun came out, and the sky blushed blue, and the Mayor spoke for peace in Iraq and Israel and Palestine and America and the United Kingdom and all other nations engaged in their eternal fight for peace.
Julian (Lennon) said only a very few words. In a later speech, we were told he'd warned them already, that he wouldn't speak at all. Then Cynthia (Lennon) asked everyone to seek the kind of peace Lennon enjoyed, which was to have a good time. "Go and have a good time," she said. "And if you can enjoy his music, that is good too."  She was so cheerful, whereas her images in my mind are of a beautiful but bitter woman. She thanked Lennon for Julian, the most precious seed she has received, she said, from among the many that Lennon planted in the world, "which has grown into a useful tree." She received the warmest applause of all.
The best in the ceremony was the singing in signs that a contingent of challenged children did. They were like angels, and their song was a moving dance.