Alexa, My Muse
"What do you want?" Alexa said. "I want ideas to write a blog post," I said, cowed somewhat by this assured voice and tone of woman.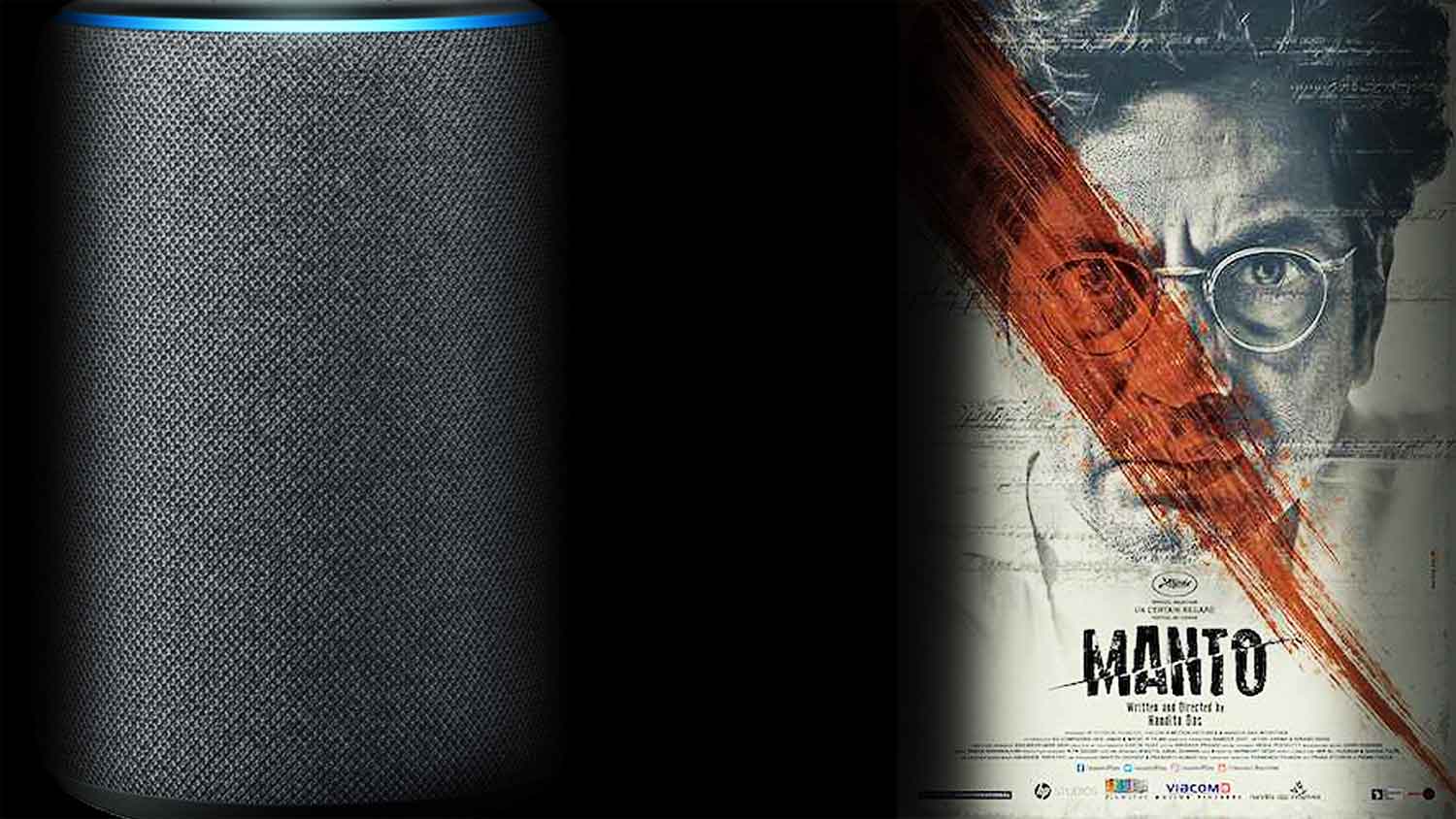 I watched a film last week based on the life of Saadat Hasan Manto.
Manto wrote on paper, with pencil. Often, he squatted on his haunches on his chair as he wrote — any chair would do, any desk. He wrote in noisy places, in hot, sweaty rooms, in uncertain, troubled times, with little money and suffering much criticism. He wrote without travelling far, travelling almost not at all.
People are reading him even now, sixty-three years after he died, aged 42.
I have the use of a Herman Miller Aeron chair for writing, and the Herman Miller Eames chair (with ottoman) for reading. It is not so quiet in my home as in European and American towns, but free enough of noise for Bangalore and India. I have a MacBook Pro and an iPad Pro. Today, on the day of its launch in India, the iPhone XS Max was delivered to me. I am not rich, but I am not poor either — I mean my lot is better than Manto's was.
But I can't write like Manto.
---
Supine on my Eames, I asked for help from Alexa, who is playing "Soothing Jazz" at my request. "Alexa," I said, and after she'd rolled her electric blue eye, I asked: "Can you suggest something for me to write?" She didn't hesitate: "Concepts include," she began, "The Indus Valley Civilization, The Theory of Relativity … ," and at the end of the list, she asked, "Does that answer your question?"
"No," I said.
"Thanks for your feedback," she said.
That line of hers sounded cheeky. I cannot answer cheekiness. I fell silent, laptop on my lap, its battery burning my thighs. After a few minutes of doing nothing, I asked again, using the same words, rather plaintive, this time: "Alexa, can you suggest something for me to write?"
"What do you want?" she said.
"I want ideas to write a blog post," I said, cowed somewhat by this assured voice and tone of woman.
"I found two books for you," she said and named two long titles. After she'd suggested the first title, she asked: "Shall I add it to your cart?" I said, "No." She asked the same question after the next suggestion. "Okay," I said, too fearful of refusing a second time. "Do you want me to add it to your cart?" she asked the question again, somewhat harsh unless I imagined it. She was pressing for the precise word. "Yes!" I said, and she confirmed the title and said she'd dropped the book in my cart.
Done dealing with me, she went back to playing the music that she had been playing. And I, I opened my browser, went to my cart on Amazon, and gawped at what Alexa had chosen for me: The One-Hour Content Plan: The Solopreneur's Guide to a Year's Worth of Blog Post Ideas in 60 Minutes and Creating Content That Sells and Hooks.
I deleted it.
Then I looked at the Amazon Echo Plus in the corner, to see if Alexa was watching, glaring at me for what I'd gone and done. I can't tell, but she's playing for me that song that everybody loves: Louis Armstrong & Ella Fitzgerald. Cheek to Cheek.
There's a lesson for me here: Don't mess with that rich man's woman.