A Very Short Trip to Korea
An account of a very short business trip to Panjo and Wonju in South Korea. We managed a quick side-trip to the Guryongsa Temple.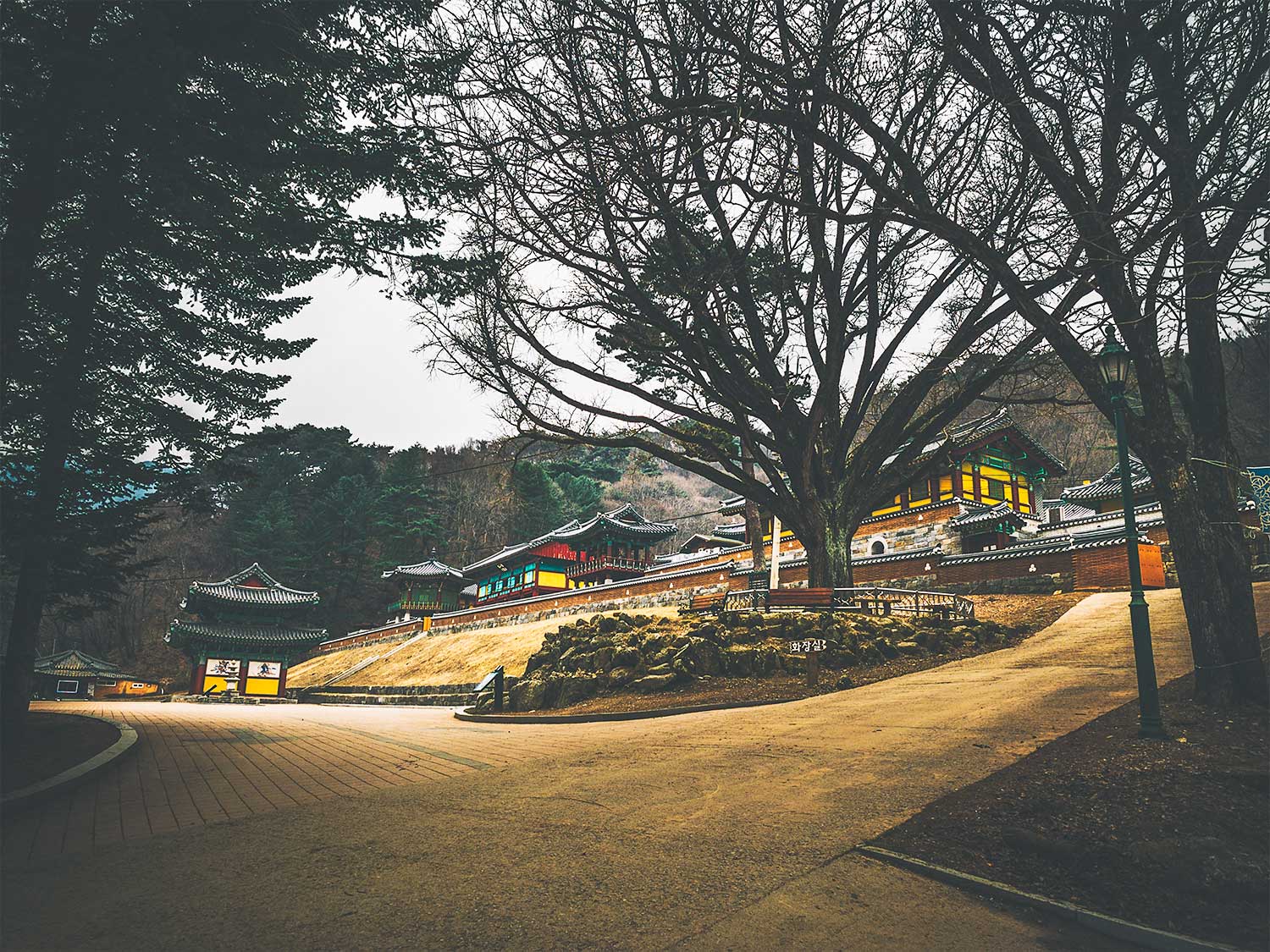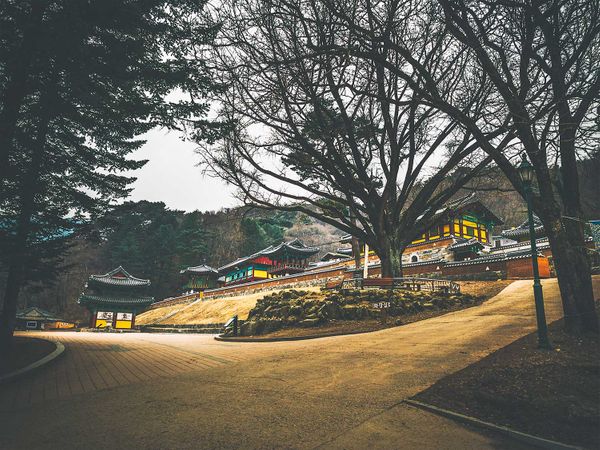 Arrival
We reached Seoul transiting Taipei, where we exited the plane and emptied ourselves and carry-on bags for a third security check since Bangalore.
It has been over twenty years since I last went to Taipei, and my memories from then are the pared manufacturing systems in Taiwanese factories that produce goods without drama (much like the Peter Drucker dream factory.) This time, during this fly-by, I saw the terrain around Taipei was all flatland, with patches of wet farms flanking the approach to the city, and many waterbodies — circular tanks with green trims round them. The tanks kept showing up until the outer reaches of the airport.
---
It was afternoon when we landed in Seoul. The taxi driver kept punching "Marriott Panjo" into his GPS. The app couldn't find the hotel.
"Courtyard … Courtyard…," we said, to be sure the driver got it. "Marriott … Marriott …" he muttered as he struggled, and gave up. At the first toll plaza that came up, he pulled to the side, beside a clump of healthy young Korean pines. "See," he said, grinning, pushing the button on the fare meter. "Stop. See? Stop. Stop."
"Good," I said. "Very good."
He went to the back of the car and returned in less than a minute. He'd got it. He was grinning and pointing to his monitor, where directions had somehow materialised. What had he done it at the back of the car? Some tough-talking to it? Had he cuffed its backside?
"Now start," he said, grinning wider, turning on the fare meter. "Start now."
Silence ruled the hour it took to reach the hotel.
Business
Panjo, slick and new, is touted as Korea's Silicon Valley. There, at the R&D Center of the automotive company we were visiting, we took in whiffs of the brewing future: technology that allows the car to course by itself between white lines on busy streets; technology that slows the vehicle in anticipation of getting too close to the one in front; technologies for autonomous automobiles.
We were humbled again, at the manufacturing plant of the same company in Wonju, east of Seoul, in a setting ringed by low and high mountains. It was as walking in a city in that factory — a city populated by humans and robots. The company deals in safety-critical parts —  robots dominate the shop floor, to eliminate all chances of human-induced error. The Head of Operations — let's call him Mr P — took us around, a man with a billion-dollar operation under his command.
---
Afterwards, Mr P took us to a "private dinner." He'd arranged a vegan dinner for us at what looked like a home in the suburbs. Seating was arranged traditional Korean-style for squatting on the floor, but he had all that removed. "No problem, we can squat," we said, to no avail. The cushions were taken out, and two tables and seven chairs were hauled in, and some two-dozen vegan stuff was put on the table.
Dinner was splendid. We ate plant-based stuff, our hosts ate the same, but with pieces from a red heap of sauce-soaked tenderloin. We drank water; they drank soju off little glasses, and plenty of mokkali from white porcelain bowls. After the meal was over, when we were thinking with satisfaction what an exceptional host he'd been, Mr P said, "Too early to go back. We'll go for coffee. On hilltop."
So we went to Cafe 533 on a hill, the highest point in Wonju, which afforded a night view of the town. It was cold. We lingered on the open terrace and shivered and went back in when our order was ready.
My drink was hot Omija-cha, a five-flavoured reddish tea. Mr P had us sit by the window, and we gazed out at the lights of the town.
---
After Wonju, we went to a maker of automation equipment who is building us a robotic line. The centrepiece on their shop floor was an under-construction robot for producing ping-pong tables, at the rate of a table a minute. Can the world consume a ping-pong table every minute? When you add the output of all the other ping-pong producing robots, what's the sum that's going out into the world?
I'm in the manufacturing business, yet mass-production depresses me.
Side Trip
We did manage to squeeze in a couple of hours to visit the 500-year-old Guryongsa Temple in the Chiaksan Mountain near the factory. It was afternoon, and in these over-touristy days, we were the only ones at that ancient shrine. We spent an hour there. "We'll come back!" my wife said to our hosts. "To practice meditation in a place like this."
"Please. Please," they said.